Long-term Planning for the Cost of Senior Living in Williamson County, TN
LifeCare

®

: Peace of mind for a brand-new day.
Planning a move to a Life Plan® Community like The Heritage at Brentwood® paints a bright future. There are new opportunities to explore, new people to meet, and tempting new dishes to try on the menu. Then there's the hard stuff to think about.
What if you get sick? What if your partner suffers a serious setback? Can you afford the cost of senior living health services? With our Type A LifeCare® contract, you can rest assured you'll be taken care of for life, without a substantial increase in your monthly fee. When you move to The Heritage as an independent living resident, your monthly fee stays virtually unchanged, no matter what the future may bring.
The Heritage is the only Life Plan® community in Williamson County that offers a Type A LifeCare® contract. As a resident, you'll know where you'll get your care, who will provide it and how much it will cost.
At The Heritage at Brentwood, you can make the most of each day with a smart plan for tomorrow. Our LifeCare plan offers lifelong care, if ever needed, at a predictable cost. With health care costs rising each year, LifeCare can protect your assets and provide peace of mind.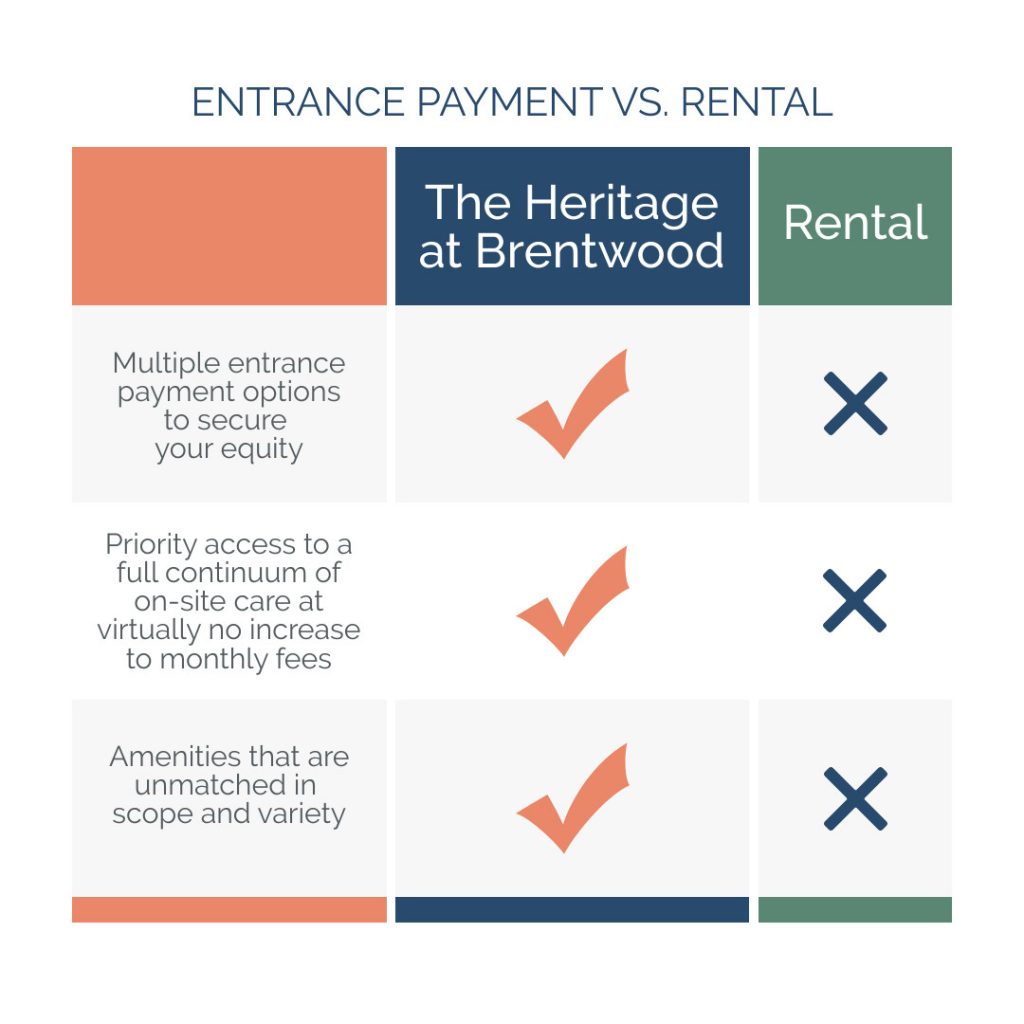 Not all Life Plan communities are created equal.
As you research your senior living options, you'll discover that not all Life Plan communities are alike. Here are the primary types of contracts you're likely to encounter:
Type A, aka LifeCare®
This type of contract promises to care for residents for the rest of their lives without significantly increasing their monthly fees. Type A contracts offer peace of mind but require a one-time entrance payment (also known as a "buy-in") that is up to 100% refundable to you or your estate. It's the gold standard for Life Plan communities.
Type B, Modified Plan
All things being equal, this type of contract requires a lower monthly fee than Type A, and possibly a lower entrance payment. However, if you move to a higher level of care, such as assisted living or skilled nursing, you'll be responsible for some of the cost. Typically, this type of contract provides either 1) a limited number of free days of health services with additional care at per diem market rates, or 2) an ongoing minimally discounted rate for health services.
Type C, Fee-for-Service
All things being equal, a fee-for-service contract typically requires the lowest monthly fees and possibly the lowest entrance payments compared to Types A and B. However, if higher levels of care, such as assisted living or skilled nursing, are required, your monthly fee will increase to reflect the market rate.
Rental
Rental contracts require no entrance payment or perhaps a nominal community fee. However, the monthly service fee may be higher than you'd pay in a comparable entrance payment community. If at some point you require a higher level of care, such as assisted living or skilled nursing, you'll pay the full market rate.
A residency counselor can help you compare your options, answer your questions, and make the choice that's best for you.
Learn how LifeCare® can give you peace of mind. Complete the Contact Form.

Holiday Showcase of Homes
Wednesday, December 15
You're invited to our Holiday Showcase of Homes. Come see The Heritage at Brentwood's decked-out halls, mingle with residents who love living here and sample our chef's favorite holiday treats. While you're here, be sure to ask about the financial and lifestyle benefits living at The Heritage affords — and why making a move may be the ideal gift for you and your family. RSVP for yourself and a guest by Monday, December 13.