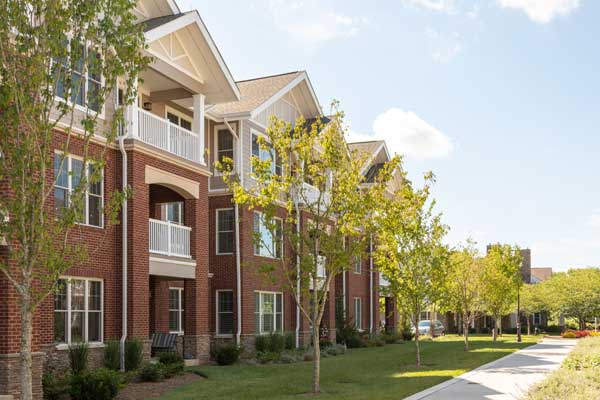 The Heritage at Brentwood offers a Buy-In discount promotion on select apartment homes
The Heritage at Brentwood, Middle Tennessee's only true LifeCare™ senior living community, is offering a rare incentive for prospective residents. For a limited time, the 90% refundable Entrance Payment will be discounted 4, 7 or 10 percent – a savings up to $68,540 – on a select number of brand-new apartment homes in The Heritage's Redbud building. Redbud, which is part of the community's final phase, features one- and two-bedroom apartments with more than a dozen unique floorplans that range in size from 781 to 1,942 square feet. It has beautiful common areas, direct access to three landscaped courtyards and reserved underground parking. Each well-appointed apartment home has a fully equipped kitchen, a stacked washer and dryer and at least one patio or balcony. If desired, a resident can arrange to customize and personalize their new home after closing. Three Redbud floorplans – the Davidson, Franklin and Jackson – are included in this Buy-In discount promotion.
The Davidson is a 1,217 square foot, two-bedroom, two full-bathroom corner apartment. It features exceptional natural light in its combined living/dining area. The Entrance Payment before discount is $602,700. Click here to view the floorplan.
The Franklin is a two-bedroom, two full-bathroom apartment with an extra-large balcony or patio and distinct living and dining areas. It is 1,276 square feet. The Entrance Payment before discount is $641,100. Click here to view the floorplan.
The Jackson, at 1,301 square feet, offers two bedrooms and a den, two full bathrooms and distinct living and dining areas. The living room has a gas fireplace. The Entrance Payment before discount is $685,400. Click here to view the floorplan.
Entrance Payments are determined by a floor plan's square footage, location and amenities. Residents or their estates ultimately are refunded 90 percent of an apartment home's Entrance Payment.
The Heritage at Brentwood, located on 48 wooded acres in the heart of Brentwood, is a vibrant retirement community comprised of apartment, villa, and garden villa homes. The HealthyLife Center, offers an indoor pool, group exercise studio, well-appointed fitness center and full-service day spa.
Two full-service restaurants, Fireside Grill and Southern Oak, will reopen as soon the Covid-19 pandemic allows. In the meantime, the chef-led culinary team continues to prepare and deliver made-to-order meals three times a day from an extensive menu that changes weekly. Grocery delivery is also available.
The Heritage's 300-seat Poplar Hall multi-purpose auditorium is again welcoming residents to take part in small-group programming and social events hosted by the Community Life team. Williamson Medical Center staffs an on-site clinic that can serve as a resident's primary care provider and/or walk-in clinic. Routine bloodwork and other tests ordered by outside providers can also be done at the clinic.
As a Type A LifeCare™ community, the campus is home to Somerfield Health Center, a five-star rated skilled nursing facility that provides Heritage residents short- and long-term nursing care, assisted living and on- site rehabilitative services when and if needed. With limited additional costs, residents' monthly fees remain consistent throughout their residency, regardless of level of care or services required.
To qualify for the time sensitive incentive, prospective residents must close within a specific amount of time after signing a Residency Agreement. Here is the breakdown:
A 10-percent discount on the Entrance Payment will be given qualified, prospective residents who close within 30 days.
A 7-percent discount will be given to those closing within 31-60 days.
A 4-percent discount applies to those closing in 61-90 days.
For more information on the Buy-In discount promotion or The Heritage in general, please call 615-507-2686 to speak with a Residency Counselor or visit our website at www.TheHeritageLCS.com.
Located 15 minutes south of Nashville, The Heritage at Brentwood, 900 Heritage Way, Brentwood, is just east of the Concord Road and I-65 exit. It is in walking distance to the Brentwood Library, Fifty-Forward Martin Center, the Williamson County Indoor Sports Center and Tower Park, home to the city's only dog park. The pet-friendly campus connects to the city's expansive trail system for walking and biking opportunities.
Locally owned, it is managed by Life Care Services, Inc., a full-service company dedicated to improving the lives of seniors.