Nursing shift brings personal satisfaction to THAB's Employee of the Month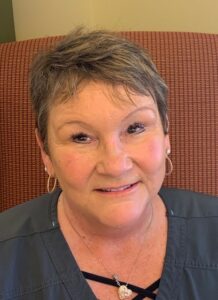 Kim Patterson, a registered nurse with over 35 years in hospital ICU and recovery room experience, never thought her nursing career would include geriatric or skilled nursing. Yet her experience with the nurses and caregivers who provided excellent care for her mother's dementia and heart disease prompted Kim to consider a change in her own nursing path after her mother passed away. She felt the desire to give back in memory of her mother who was a nurse for over 50 years.
Kim is The Heritage at Brentwood's August Employee of the Month.
Kim joined the nursing team at The Heritage's 5-star rated Somerfield Health Center in September 2020. She says it feels like she gets to visit with grandparents five days a week. She enjoys sitting with them and holding their hands to brighten their day. They love to hear about Kim's fur baby, Coco, who is a six-pound Yorkie. She looks forward to coming to work every day to see the residents as it brings her much joy.
Originally from Athens, AL, Kim has lived in Nashville, for the past 35 years. She enjoys spending time with her nieces and nephews who range in age from 16 to 33. She received her Associates in Nursing Degree from Calhoun Community College in Decatur, AL — the same school where her mother graduated with its first nursing class.
Golfing and gardening are two of her favorite hobbies and she enjoys watching baseball and college and NFL football. In response to the obvious question of which Alabama team she roots for, Kim proudly responds, "ROLL TIDE!"
Kim generally works the second shift in Somerfield. Gail Boylan, Director of Nursing, reports that Kim is "clinically strong and an outstanding team player who will work wherever there is a need without any drama." Kim is also described as showing true compassion for the residents and demonstrating strong customer service and hospitality skills.
For information on The Heritage at Brentwood, a Life Care senior living community, call 615-507-2686 or visit TheHeritageLCS.com